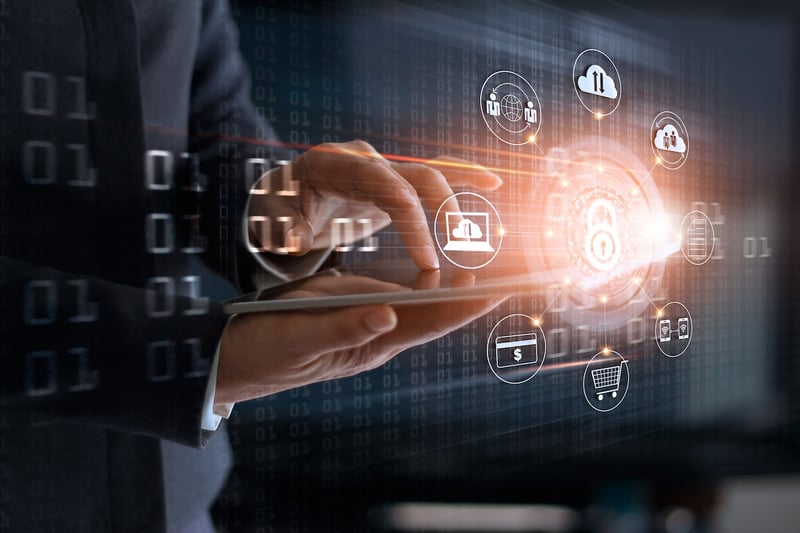 With technology's constant growth, it's important to keep an eye on the latest tech trends and how they could affect businesses. Some of these trends could already be in play.
Here are seven things to watch throughout the remainder of 2019.
1. Surveillance of Cyber Security Across an Enterprise
As branches of companies progressively streamline, more cloud-based data spreads throughout the company making it more vulnerable.
There are many ways to protect this data and the effort to do so is well worth it. Some include predictive learning models, cloud configuration monitoring and tracking data using analytics. These will help break down and monitor a business's data to make it more secure.
2. Crypto-Jacking
Crypto-Jacking is a way for cybercriminals to abuse others' computers to "mine" cryptocurrencies. In December 2018, when cryptocurrencies spiked in popularity, there were over 8 million coin-mining events blocked by Symantec alone.
There are many ways for crypto-jacking to affect a business, but it's important to have plans for preventing crypto-jacking and getting rid of it. As cybercriminals become craftier, businesses need to take the necessary steps to make their employees and technology safe.
3. Advances in AI
Common examples of artificial intelligence include mobile check deposits, ride-sharing apps and plagiarism checking software. As AI becomes increasingly intelligent, it'll start to have a bigger impact on our everyday lives.
Google recently introduced Duplex AI software, which could potentially be the future of personal assistants and customer service. Just like other tech trends that took shape in recent years, Advances in AI are implemented in multiple branches of businesses to predict customer trends and user behavior to better understand big data.
4. IoT Cyber Attacks
The Internet of Things has successfully made its way into our daily lives and business structures. Smartphones, smart refrigerators, smart cars, virtual assistants, etc. all face a risk as providers focus on functionality over security.
The more trust and responsibility we give them, the more at risk we become. This also makes these devices bigger targets for cybercriminals to hack because they'll have more control over our lives. As we continue to adopt these new technologies, we need to remain aware of the control we hand over.
5. Data Management
It's hard to imagine the amount of data we create. Over 2.5 quintillion bytes of data are created every single day, and with 5G technology around the corner, it's overwhelming to think about the data companies will manage.
Implementing automated workflows using ECM's will start to become more popular as businesses try to reduce the risks that come with big data.
6.
Using LMS to Train Employees
If done correctly, Learning Management Systems can help with investing in new employees. They help new hires with staying busy, teach them what tasks to perform next and use less time than individualized training. They'll feature the employee's strengths and weaknesses, track their performance and ultimately increase their job satisfaction.
7.
Proactive Data Privacy Laws
Data privacy is one of the biggest issues on the web right now. Companies want more data and consumers want more privacy. All business owners and technology users should be on the lookout for new legislation and upcoming changes concerning this topic.
The California Consumer Privacy Act goes into effect on Jan 1, 2020, and puts greater restraint on the data companies can collect. Various companies received a penalization for misusing client data, making it crucial to know where a company's data goes.
The Future of Cybersecurity
In 2019, businesses have no choice but to get on board with Cybersecurity. As the complex environment of Cybersecurity continues to grow and adapt, businesses can help protect themselves now by investing in the right technology.
Kayla Matthews is an IT journalist and cybersecurity writer. Her work has been featured on Security Boulevard, Security Today, the National Cyber Security Alliance and InformationWeek. To read more of Kayla's work, please visit her personal blog here.